Nippon Chocolate/Teapot Set 6 Cups & Saucers Hand Painted M-in-Wreath 1911 -1918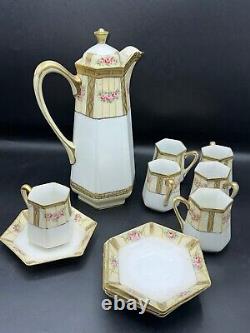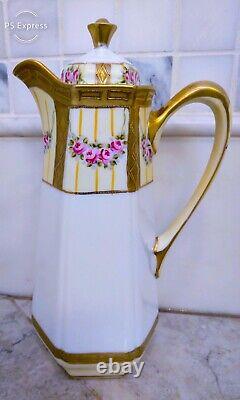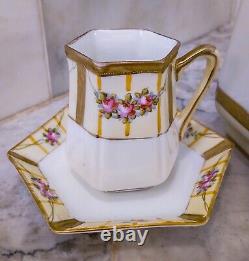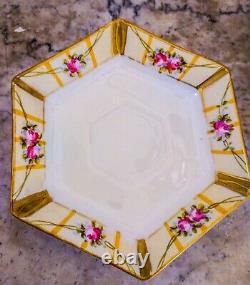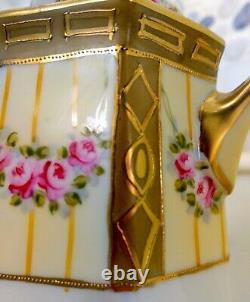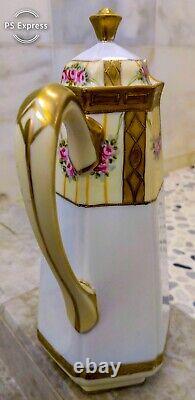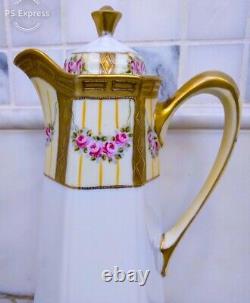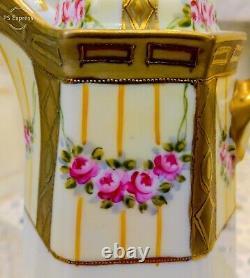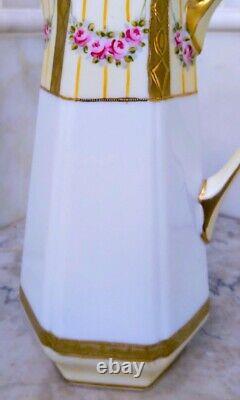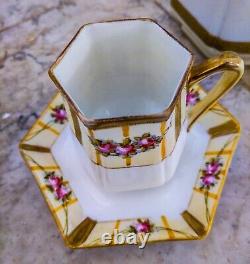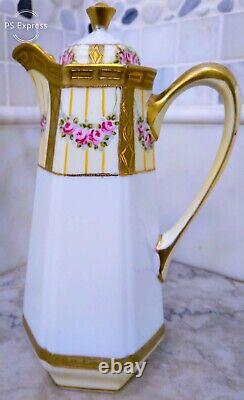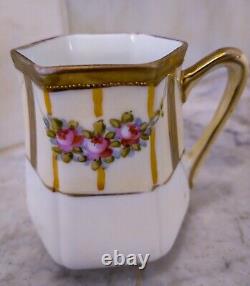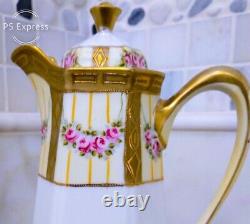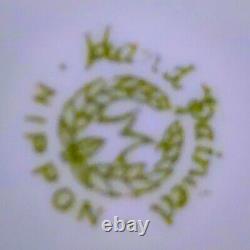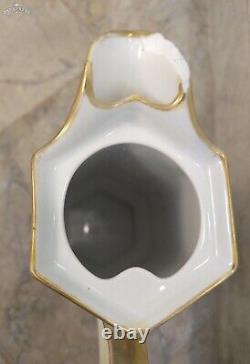 NIPPON CHOCOLATE/TEAPOT & 6 CUPS & SAUCERS HAND-PAINTED in M-in-Wreath. Both teapot and cups and saucers are painted using the Exquisite M-in-Wreath Pattern. Painted w/ ROSE GARLANDS inside Panels w/Raised GOLD & Small GOLD Beading.
Nippon Pattern was produced using a gold, yellow, pink & green color palette on white porcelain base. The main colors of this are the gold used extensively in the raised outlining and small beading & the yellow used in the panels which flow around the teapot and cups. The handle is painted a solid gold color.
The geometric designs are intricate and beautiful. 2-1/2" H X W 2-1/2". Nippon porcelain with "M-in-Wreath" pattern.
Nippon porcelain with "M-in-Wreath" pattern is Rare & almost non-existent. Only one one piece in this pattern found. Ruby Lane -2 Nippon demitas cups with saucers hand painted. Etsy - 2 Nortake Morimura Brothers Hexagonal Cups and Saucers. This is an antique please expect minuscule imperfections.
Paint is vibrant in color. There are no chips, scratches, etc. On the cups and saucers. Pot has a large chip on rim.
The price for the tea set reflects this. The price for the set is calculated for the 6 Nippon teacups and saucers The teapot is included at no price.
Formed the trading and decorating company in 1876 which evolved into Noritake. Noritake Company has a rich history of producing fine bone china all the way from January 1, 1904 when the Nippon Toki Kaisha Ltd - the forerunner to the present Noritake Company - was formed in the village of Noritake, a small suburb near Nagoya, Japan. Registry for a Noritake backstamp for importing is 1911. The backstamp on this set is the green M-in-Wreath Mark. The M-in-Wreath Mark is attributed to Noritake and its forerunner in the 1890's to 1921 time period.
In Collecting Noritake A to Z Art Deco & More, David Spain shows that Noritake substituted Japan for Nippon in their backstamps starting in 1918. In ABC's of Collecting Nippon Porcelain, Van Patten attributes the M-in-Wreath's mark #47 to since 1911.
Please view all pictures carefully as they are part of the description. I Will be happy to answer any question.