Moroccan tea glasses, Vintage set of handmade teapot, Tea Tray, Set Of 6 tea Cups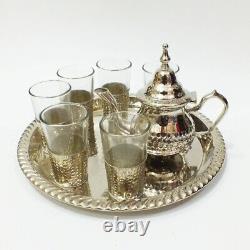 Marrakech Crafts presents the Luxury Moroccan Tea Set in modern shape and different colors. Besides the fact that our products are made by specialists from the old school, our manufacturing process is completely different from the mass products available in the market, and you cannot find this product in another store, we are the only ones who bring you amazing Moroccan tea cups.
Magic with our impressive range of elegant Tea Set. Marrakech Crafts glassware is practical and versatile for drinking, candle holders, or sophisticated party favors. Each cup of Moroccan tea is hand-painted by skilled artisans in Morocco.
Our Moroccan Tea Set includes this wonderful and regal set of 6 teacups. Every glass is a piece of art. Serve tea in elegance with this beautiful set.
It can be used as wine glasses or a votive candle holder for a different look. Glasses Dimensions: 4 " x 2.5 " diameter.
This Luxury Moroccan Tea Set includes: Large teapot Round tray Six cups of tea.