Fine Silver Tea Pot Pure Silver 999 Collectibles Bamboo Festival Tea Sets Cup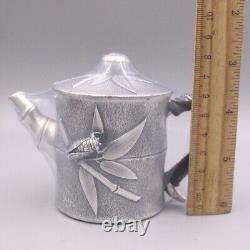 Yuxi- The Professional jewelry Company. Pot Height:8.4cm/3.31inch.
Pot Width:11.7cm/4.6inch Width(inclding handle). Pot Mouth Width:6.4cm/2.52inch. Tea Cup Size:4.1cm/1.61inch Width, 3.9cm/1.6inch Height.
Benefits of using silver teapots. The correct use of silver tea sets has certain benefits to the body. Silver tea has the functions of disinfection, sterilization, purification of water quality, etc.
In traditional Chinese medicine, it also has the function of removing damp and heat, 2. Silver tea sets contain silver ions, which can react with viruses and bacteria, thus destroying the protein structure of viruses and bacteria, and can play a role in disinfection and sterilization to a certain extent. About the maintenance of silver jewelry color.
The chemical properties of silver are relatively active, so it will react with sulfur dioxide in the air to form black silver sulfide, and the surface of silver ornaments will oxidize and turn black. It is best to avoid contact with chemicals such as water and perfume. Discoloration is not a quality problem, and improper use. All of them will seriously fade the color of silver products.
If you are not wearing it, please put it in a container that is isolated from the air, such as a sealed bag, jewelry box, which can keep your silver jewelry color and luster longer! Packing: 1 item in the gift box. Craft: Classic design, and good craft.
You can retest it after you get the package. DIY: If you need your favorite styles, we could customize and process the jewelry as you wish. It's really rare in China that people could do it perfectly well at minimum price. Warmly welcome your ideal design! We will do our best to give you the most wonderful experience.
It's made by our dedicated experts Cameron Chou, a professional jewelry designer, who engaged in this line.